Don't Skip the Legal
A podcast where you can learn how to grow your business through the lessons and experiences of other business owners, just like you.
It's time to get ready for change. You're growing and building your business, and you have a vision for the future. You want to know what legal hurdles you might encounter so you can take care of them before they grow out of control. This is where we come in.
We are bringing you the "Don't Skip the Legal" podcast. A place where you can learn how to grow your business and build a better future for yourself and your business through the lessons and experience of other business owners, just like you. You know there are legal hurdles on the horizon that need to be taken care of before they grow out of control.
This podcast will help you learn to make a strategic response to the constantly changing business landscape during stressful situations reassuring and empowering you with a framework to respond and take smart actions so you can protect yourself, your customers, and your business's future.
Listen to this podcast on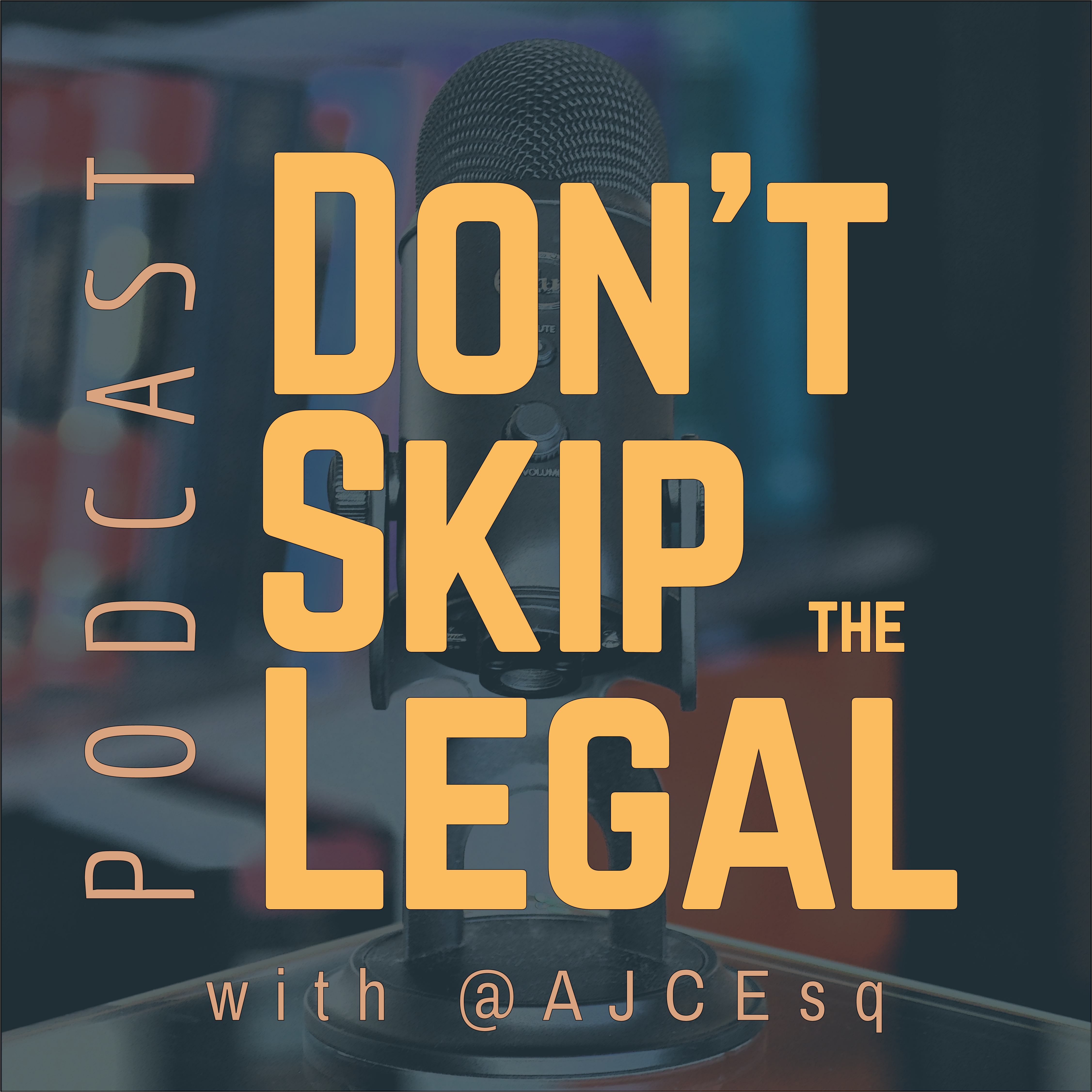 EP. 112: Join us for Part 2 of this series on creative businesses as we discuss the critical decisions surrounding business formation with Joey Korenman, owner of the School of Motion. Protecting yourself legally and saving money are top priorities for freelancers, and LLC formation is often considered the go-to solution. However, is it really the best choice for everyone? In this episode, we take a closer look at LLC formation and help you make informed decisions, as choosing the wrong entity can result in costly mistakes. Don't miss out on this opportunity to potentially save thousands of dollars. Tune in now to learn more about LLC formation and its significance for creative businesses. If you missed Part 1, check out Episode 111 for a comprehensive guide on contracts.
EP. 111: In this must-listen podcast episode, I sit down with Joey Korenman from the School of Motion to discuss crucial legal contracts for creative businesses, as part 1 of a 2-part series on the legal aspects of the creative industry. Learn about the key aspects of contracts for creative businesses and gain valuable insights to protect your business and ensure your rights to finished work. Enhance your understanding of the legal side of the creative industry and don't miss out on this opportunity. Tune in now!
EP. 110: Discover valuable insights on legally securing ideas and products with Fernando Eid Pires at Podfest 2023 in Orlando, FL, and learn about Fernando's successful journey in creating the cutting-edge AudioSigma device for improved audiobook recording. Get expert tips on the patent and trademark process from Fernando, who shares lessons from his experiences in Brazil. This episode is a must-listen for entrepreneurs and business owners seeking to protect their ideas and products. 
"So, lifelong dream to become an employer. Because everybody needs work. Not everybody's willing to go through the motions and the difficulties of starting a company. … Instead of just taking the job, I'd like to create jobs." – Fernando Eid Pires
EP. 109: Risk management is the process of identifying, analyzing, and responding to risk factors throughout the life of your business. As you grow and scale your business it's important to develop responsive strategies and take action to minimize negative impacts and capitalize on opportunities. In this episode of the Don't Skip the Legal Podcast, we do a deep dive into the benefits of evaluating risk management in your business so you can learn how to effectively manage business risks to make better decisions for your company.
"Preventative planning prevents problems down the line"
-An Old Saying
EP. 108: On this week's episode of the Don't Skip the Legal Podcast I sit down with Denver attorney Michael Melito, former army paratrooper and army JAG attorney who transitioned into running his own law practice. Listen in while we discuss his transition from a military attorney, to Colorado Assistant Attorney General, into a private lawyer. 
"You learn your craft it, hone it; then eventually it becomes how I operate." 
 -Mike Melito
EP. 107: In this episode of the Don't Skip the Legal Podcast, we do a deep dive into the 10 legal mistakes I see startup businesses make as they grow and scale. Keeping an eye out for these legal mishaps can keep your business running and operating in a sound direction. 
"One problem that people run into is co-mingling their business and personal assets"
-Andy Contiguglia 
EP. 106: On this week's episode of the Don't Skip the Legal Podcast I sit down with Dr. Tabitha Gressard of crush.club.llc to discuss how her passion as a licensed clinical therapist transformed into a budding startup business that provides mental health training and education for youth and their families.
"I'm a psychologist. I know the things to do. I'm preaching the things to do, but yet I'm letting myself just kind of hang in by a thread in order to continue the mission … I really needed to just take a minute and just address my own needs so … I can be a better mother, to be a better person." – Dr. Gressard
EP. 105: In this episode of the Don't Skip the Legal Podcast, we sit down with Cait Crowell, the founder of Crowell and Co, a business dedicated to helping the nutritional needs of her clients, and how she navigated anxiety and the rise from social media influencer as What Cait Ate, to a business owner.
" I help people get to the root cause of complex chronic health issues like digestive issues, hormonal imbalances, issues with chronic inflammatory things like Lyme, co-infections illness, more like stealth infections. " – Cait
EP. 104: In this episode of Don't Skip the Legal – Legal Lesson Deep Dive we dig deeper into some of the legal issues we identified in previous episodes. In this first Deep Dive, we get into the reasons why buying a business might be better for you than starting one from scratch.
"This is about building a business and growing market share." – Andrew Contiguglia
EP. 102: In this episode of the Don't Skip the Legal Podcast, we sit down with Robert Grieve, the owner of Nylund's Collision in Englewood, CO which he has grown to be one of the most successful auto body repair shops in the Denver Metro area. His journey started in the automobile industry eventually leading to his purchase of Nylund's Collision. This is a great episode about how you can build your dream business without starting from scratch. 
"The vision, you got to think the long game" – Rob Grieve
EP. 101: In our inaugural episode of the Don't Skip the Legal Podcast we sit down with Greg Odom, the owner and founder of Thre Trimmer Store, a company dedicated to renting out trimming machines to those in the cannabis industry. He builds this business from scratch and has managed to grow it to several other locations outside of Colorado. This is a great episode about scaling and partnering up with others. 
"Quick to realize if someone used one of our machines and got injured, we need a proper release form" – Greg Odom 
LEGAL DISCLAIMER AND NOTICE:
By viewing this website, you agree that no attorney client relationship is intended or created. The content within this web site is informational and general in nature only. The information contained herein may not reflect the most current legal developments, is not intended to constitute legal advice and should not be used for this purpose. Visitors to this website should not act on any of the information contained herein without first obtaining qualified legal advice.

The payment system should only be used by current The Contiguglia Law Firm, P.C. clients. The depositing of funds by individuals who are not The Contiguglia Law Firm, P.C. clients does not create an attorney – client relationship unless and until there is a written fee agreement in place formalizing the attorney client relationship. Fund deposited from Non The Contiguglia Law Firm, P.C. client will be returned.