Trying to protect your business, employees, and customers through times like these is challenging and stressful for all business managers and owners.
For most of us, the way we run our businesses will never be the same, and simple, day-to-day actions will need careful scrutiny in order to protect the health of everyone.
Financial and legal risks are plenty, and emotional turmoil only adds to this strain and pressure.
Getting your business back to normal, or to a "new" normal, and thriving again, is possible if you are diligent about mitigating risk.
The CDC is constantly updating its policies and recommendations regarding COVID safety. Business owners who are reopening may find the resuming business toolkit and CDC's FAQs for businesses to be useful starting points.
Protecting Customers and Employees: Health Matters
To protect your business, refer to CDC guidelines when sharing information with customers and employees.
Posting these guidelines around your place of business (and on your website) will help to ensure that people are both reminded to take correct actions while reassuring them that you are prioritizing their health and safety.
Can you enforce mask-wearing in your business?
In places where there is a governmental mandate (e.g., state-wide like Colorado or county-wide like Tri-County Health, or Citywide like Denver) that people wear masks in public, there is a compelling argument that a mask policy is based on a legitimate safety requirement.
But there is also a legitimate question about whether forcing certain people—for instance, people who rely on lip-reading for communication—to wear masks could qualify as discrimination under the Americans with Disabilities Act (ADA).
Businesses need to be clear that safety requirements are based on actual risks instead of generalizations or stereotypes, and about how they will adjust the mask policy in order to accommodate people with disabilities.
Businesses should also document everything that they are doing to accommodate those with disabilities, and document methods of support as well as incidents involving conflict.
Finally, remember that there are many disabilities and illnesses that go unseen, so be clear about how you will address these conversations when they come up.
Talk About COVID-19
Don't assume people know what this disease is, or how it has been transmitted.
Train service employees to have regular discussions with customers throughout the day, even if it feels repetitive.
This can be a good opportunity to connect with customers, check-in with them, and let them know that you are open to conversations if they have any specific health concerns related to your products/services.
Check for Symptoms
Checklists are a good way to show lists of symptoms and review them with customers as they come in.
You are within your right to ask customers and employees whether they have any symptoms on a regular basis. Depending on the nature of your business, you may also want to take customers' temperatures before entry.
Keeping a checklist of symptoms at hand sanitizing stations, for instance, is a good way of keeping the issue at the forefront.
Bear in mind that many COVID carriers are asymptomatic, so other types of preventative measures should be prioritized to protect your business.
Can you pressure employees to go back to work?
Per the Colorado Safer at Home Executive Order D 2020 044, no vulnerable individuals can be compelled by their employer to return to work if their work requires in-person work near others.
Employers must accommodate vulnerable individuals with remote work options if the work can be done remotely.
Employers can also ask for doctor's letters for confirmation if they are feeling unwell.
Some employees might not feel safe and depending on the overall degree of risk pertaining to the place of work and/or their health, they may be eligible for unemployment.
Check the OSHA safety rules and Colorado HELP Rules for more information on this topic.
Social distancing violations should be reported to OSHA or the county office.
Liability Waivers
It's better to move forward with a liability waiver for customers and clients than to not do so.
You're probably familiar with liability waivers if you've been to a massage therapist or gym. Basically these are signed forms that protect businesses from getting sued based on normal day-to-day business operations.
Given that there is literally no precedent for settling COVID-19 cases in court at this time, liability waivers won't guarantee protection from lawsuits.
But they are nonetheless helpful as long as they are developed in the right way.
Both the risks that the signee is taking, as well as the rights that they are "signing away," risks and rights must be clarified in detail in order to be legally sound.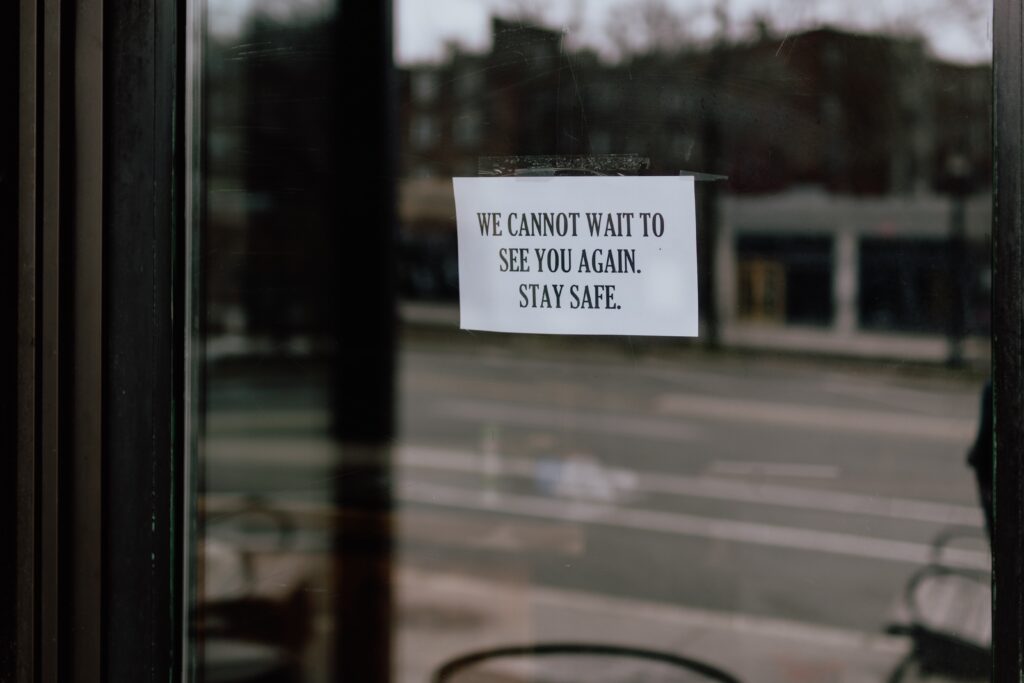 15 Ways to Protect Your Business from COVID-19
When it comes to risk management, you can't afford to take chances.
But for the most part, this means being aware of possible financial and legal risks ahead of time and making sure your employees and customers are kept informed as well.
Here is a summary of best practices for protecting your workplace during the pandemic:
Re-evaluate the work process re" management of employees and customers and keep clear safety plans in place.
Stay updated about what constitutes discriminatory practices in light of emerging conversations and controversies to do with COVID-19.
Educate managers and supervisors on what to do in the case of non-compliance with rules.
Keep safety information updated and in plain sight for customers and employees.
Update relevant policies including those related to anti-discrimination, FMLA, emergency paid sick leave, emergency medical leave, etc.
Ensure social distancing practices are met, especially if employees are stationed at the front doing customer health screenings.
Make sure you are in compliance with state laws in the case of compensation adjustment, layoffs, or furloughs.
If an employee suspects that they have COVID-19, practice diligence with documentation, and stay within quarantine guidelines.
Check-in with employees regularly to ask whether or not they require more personal protective equipment (PPE).
Conduct regular health and safety workplace risk assessments in light of changing information about COVID-19.
Clearly identify all risk factors to employees so that they can reasonably determine their own personal level of risk.
Do not assume that an employee or customer is already aware of the risks, especially given that risks will vary from business to business.
Train employees on existing regulations, and send them regular updates as needed. This applies to local, statewide, and national regulations, as well as internal policies.
Provide ongoing training to employees to stay safe in the workplace, including incorporating safety routines and activities into employee manuals.
Pursue alternative delivery methods for your products and services, as well as remote working structures, where it can mitigate risk.
Innovating beyond state and local CDC guidelines in the interest of doing no harm is an ever-increasing strategy for long-term risk mitigation and safety.
Collaborate with other businesses in your community or industry to share ideas about innovative solutions regarding protection from COVID-19.
Let Us Help You Protect Your Business
Beyond this, sound legal support and guidance can help you stay on course, and keep your business in operation.
As business risk management specialists, we can help you manage your business during times of uncertainty.
If you need help with this, schedule an appointment or give us a call today.
Enjoyed this article? Here are three more to help you:
Going Bankrupt? Here's What You Should Do, and How to Avoid the Pitfalls.
Best Practices for Accounts Receivable in an Economic Downturn
The CARES Financial Relief Act: What Everybody Ought to Know About it for their Small Business.